Because Halloween is coming closer and closer and some people still don't know what to wear as a costume here's three tips of what NOT to wear...
3. Sexy Miss Tapeworm
No. Just no. Also you'll have trouble to dance in this...
2. President Obama Costume set
This costume set is sold by the Mitt Romney campaign bureau...
1. Sexy Guantanamo Prisoner
This is also wrong on several levels, but at least you won't be thinking about it too much, 'cause you'll keep running into shit...
3. A penguin at a tropical beach - that's funny, right? Only that this picture was shot in Antarctica...
2. Never forget to check where exactly your ads will be put up!
1. A melting hot beach and cool mineral water. Again the devil is in the detail...
Being an actor is a hard job - all those different roles you have to play all day long sometimes can get you confused about what you are appearing in today - and sometimes they put on the wrong costume or bring the wrong props...
Even though the Harry Potter series isn't the most well thought out fantasy series some of it's magic could indeed be highly useful in the real world. For example when you watch a scary movie that creeps you out too much you simply cast the "Ridiculus"-Spell and all's good:
1. Roman Polanski's "Chinatown"
It doesn't even have to be a horror movie - I always found that the scene in which a thug sticks a knife up the nose of Jack Nicholson's character and cuts it in Chinatown to be cringe inducing. But no longer: RIDICULUS!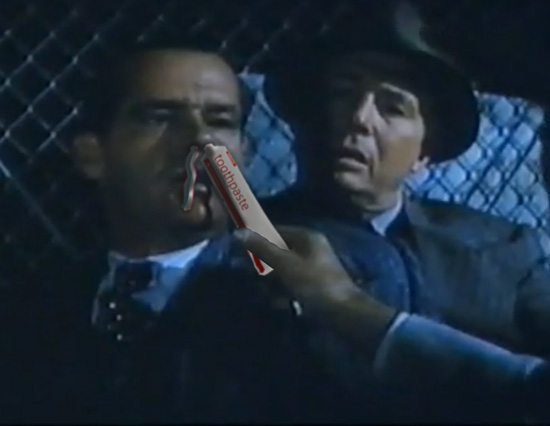 2. Christopher Lee in "Dracula"
Many movie buffs agree that Christopher Lee played the scariest Dracula ever - and no wonder, the guy is just that intimidating! Or is he? RIDICULUS!
... and not just a TV series.
Pretty much everyone today grew up watching and loving some type of cartoons and their characters grew into beloved friends. But research by cracked revealed, how mindfuckingly scary they were, if they existed in the real world...
1. Dumbo
As told by Disney the story of an elephant with huge ears who finds out that he can fly is a heartwarming variation of the ugly duckling's story. In the real world, though, a flying elephant would be a NIGHTMARE - especially for airline pilots...
It's time to learn! :) Pretty much everyone knows about the pioneers of Electronic Pop music - Kraftwerk, Tangerine Dream, Jarre and so forth.
But for them to be able to even make their music you first needed the pioneers of electronic music period. The ones who invented the tools later used by other musicians and bands.
Here is a documentary about some of THOSE people:
Pages